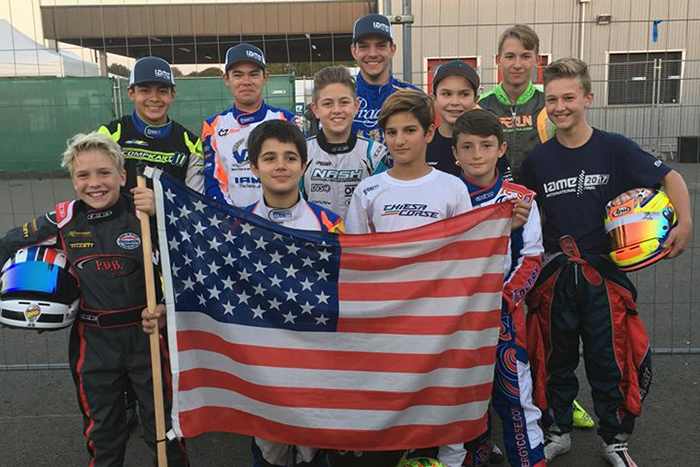 The best X30 drivers from around the world converged on the Le Mans Karting International circuit in France for the sixth edition of the IAME International Final. A total of 454 drivers took part in the six categories in the week long event alongside the famous 24 Hours of Le Mans road circuit. A total of 14 drivers from the United States of America competed in four of the divisions, representing the Superkarts! USA, United States Pro Kart Series and the World Karting Association. In 2015, David Malukas became the first American driver to win at the event in the X30 Junior category. 2017 marked the first year for the X30 Mini division, with North Carolina's Brent Crews becoming the inaugural champion.
A limited 36 entries were offered for the first year of the X30 Mini, a water-cooled Swift engine. Five drivers from the United States were able to secure spots in the event, including 2016 Rotax Micro Max world champion Diego LaRoque. Throughout the event, the USA contingent battled for the top spot, including the three practice sessions. USPKS ticket winner Santiago Trisini – racing under the world champion Chiesa Corse operation – scored fast time in qualifying only to be removed following tech inspection. That put Atlanta resident Mateo Rubio-Luengo, racing under the Spanish flag, at the top of the qualifying standings. USPKS champion and Nitro Kart pilot Brent Crews was second with LaRoque (BBR) making it three inside the top-five.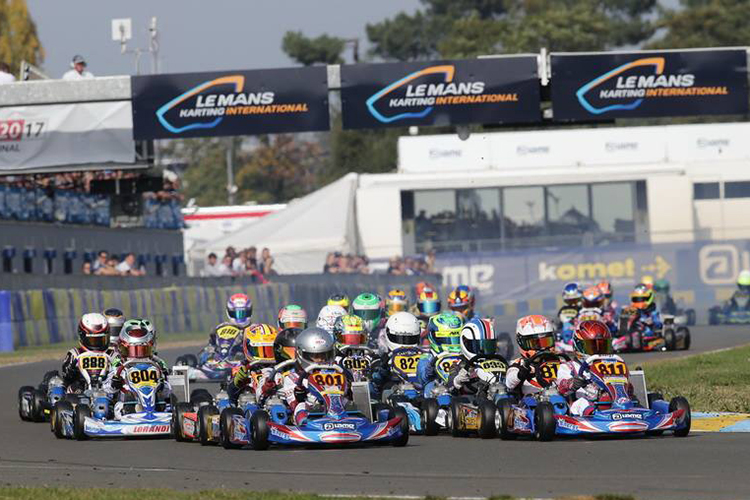 Crews was the highest finisher in the opening heat, with that race as the only official session for a non-USA driver to be P1. Ugo Ugochukwu, who has spent much of his 2017 season in Europe, came up to win the final two heat races, earning the pole position for the Prefinal. He would end up finishing second with Crews slipping by on the final circuit for the win and the P1 spot for the main event.
The main event was paused early on due to an incident, bunching up the field. Once restarted, Ugochukwu was able to run away until he was run down by a charging Trisini. The Florida driver fought from 26th to 11th in the Prefinal, and was into the lead group before the red flag. Trisini was able to run away as they fought for second behind him, crossing the line as the provisional winner. Unfortunately, a five-second pushback bumper penalty handed to him and second-place finisher Maxiums Mayer (ESP) shuffled up the podium. The victory was then awarded to Crews, with Trisini making it a 1-2 finish for the United States. Mateo crossed the line fourth but a five-second penalty dropped him to eighth. Fighting for the podium all race long, LaRoque was spun in the final corners, and able to continue on, crossing the line in 13th. Ugo suffered a 10-second penalty, dropping from fifth to 15th.
#801 – Ugo Ugochukwu (Energy)
Qualifying: 11th (1:01.074)
Heat 1: 5th +1.138 (1:01.203)
Heat 2: 1st +0.116 (1:01.083)
Heat 3: 1st +0.142 (1:01.530)
Points: 1st
Prefinal: 2nd +0.040 (1:01.348)
Final: 15th +10.863 (1:01.825) +10-second penalty
#803 – Santiago Trisini (Zanardi)
Qualifying: DQ (1:00.671)
Heat 1: 28th +11.396 (1:01.067) +5-second penalty
Heat 2: 12th +4.598 (1:00.756)
Heat 3: 32nd +27.210 (1:01.138) +5-second penalty
Points: 26th
Prefinal: 11th +5.939 (1:01.158)
Final: 2nd +2.546 (1:01.378) +5-second penalty
#811 – Brent Crews (Energy)
Qualifying: 2nd (1:00.819)
Heat 1: 2nd +0.632 (1:01.510)
Heat 2: 6th +2.072 (1:01.603)
Heat 3: 4th +1.575 (1:01.376)
Points: 3rd
Prefinal: 1st +0.040 (1:01.355)
Final: 1st +2.546 (1:01.843)
#830 – Mateo Rubio-Luengo (FA Kart)
Qualifying: 1st (1:00.725)
Heat 1: 4th +0.881 (1:01.203)
Heat 2: 3rd +0.177 (1:00.991)
Heat 3: 5th +1.600 (1:01.281)
Points: 2nd
Prefinal: 4th +2.335 (1:01.190)
Final: 8th +5.854 (1:01.468)
#833 – Diego LaRoque (PDB)
Qualifying: 5th (1:00.925)
Heat 1: 12th +5.077 (1:01.095)
Heat 2: 2nd +0.116 (1:01.224)
Heat 3: 3rd +0.386 (1:01.548)
Points: 6th
Prefinal: 5th +3.447 (1:01.418)
Final: 13th +8.439 (1:01.774)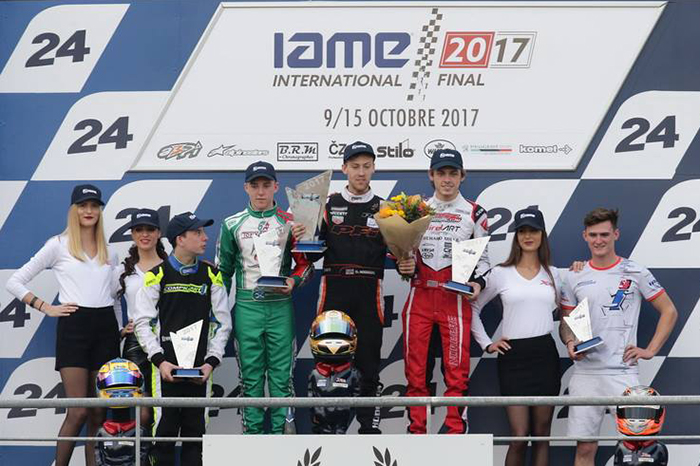 Team USA was in contention throughout the event in the 144-driver X30 Senior category. SKUSA Pro Tour champion Ryan Norberg (PSL) and Dante Yu (CompKart) were among the top drivers following qualifying. Yu ended up first in his session, second overall while Norberg was 12th. Norberg was able to escape the seven rounds of heat races with only one bad result, placing top-four in the first six before a 10-second pushback bumper penalty dropped him from third to 16th. That result from his seventh heat cost him five spots on the Prefinal grid. He would work his way up to third quickly, setting up for an inside Row 2 start for the main event. The Florida driver led one lap early in the Final, settling into a fight for second in the closing laps. Norberg came up short at the line, placing third to become the first American on the Senior podium at the event.
Yu had the pace to battle for the overall victory, winning one of his heat races. Contact however took Yu out of two heat races, including his last that was caused by a shunt from behind resulting in the California driver flipping over. Thankfully he came away uninjured, forced to run in the B-Main. Joining him in the B-Main was USPKS champion Brandon Jarsocrak. The KartSport North America / Praga driver was not far off the pace in qualifying, three tenths off Yu's time and placed 52nd. Yet it was only five spots back of recently crowned World Champion Danny Keirle. Jarsocrak improved or maintained his position through the first five heats. The last two saw a mechanical issue and incident hurt his chances of a possible slot into the A-Main. Starting at the back of the B-Main, he improved to 15th. Maks Kowalski was the fourth Team USA driver in Senior, forced to move up based on his age. The USPKS IAME Junior champion made his second start at the event. The driver from Illinois fought hard all week long with Franklin Motorsports / Merlin USA Jamie Sieracki at his side, unable to reach any of the main events.
#202 – Maks Kowalski (Merlin)
Qualifying: 118th (55.130)
Group: F – Row 15
Heat 1: 24th +18.553 (55.746)
Heat 2: 29th +26.701 (55.486)
Heat 3: 22nd +19.985 (55.663)
Heat 4: 23rrd +18.060 (55.702)
Heat 5: 28th +16.428 (55.416)
Heat 6: 25th +19.024 (55.607)
Heat 7: 20th
Points: 109th
#208 – Brandon Jarsocrak (Praga)
Qualifying: 52nd (54.760)
Group: D – Row 7
Heat 1: 15th +10.916 (55.085)
Heat 2: 10th +8.078 (54.998)
Heat 3: 15th +9.680 (55.257)
Heat 4: 9th +4.534 (54.929)
Heat 5: 10th +6.182 (54.777)
Heat 6: 35th +9 Laps (56.225) +10-second penalty
Heat 7: 31st +54.579 (55.368) +10-second penalty
Points: 61st (P26 B Main)
B Main: 15th +3.837 (54.766)
#345 – Dante Yu (CompKart)
Qualifying: 2nd (54.444)
Group: B – Row 1
Heat 1: 7th +2.778 (55.215)
Heat 2: 34th +27.130 (55.562)
Heat 3: 3rd +1.720 (54.786)
Heat 4: 1st +0.163 (54.827)
Heat 5: 4th
Heat 6: 3rd +0.315 (54.841)
Heat 7: 29th
Points: 37th (P4 B Main)
B Main: 8th +0.972 (54.799)
#348 – Ryan Norberg (Birel ART)
Qualifying: 12th (54.497)
Group: D – Row 2
Heat 1: 4th +2.096 (54.852)
Heat 2: 4th +4.025 (55.220)
Heat 3: 3rd +2.069 (54.950)
Heat 4: 2nd +1.194 (54.764)
Heat 5: 2nd +0.597 (54.737)
Heat 6: 2nd +0.407 (54.882)
Heat 7: 16th +10.963 (55.120) +10-second penalty
Points: 9th (P9 Prefinal)
Prefinal: 3rd +2.188 (54.884)
Final: 3rd +4.676 (55.046)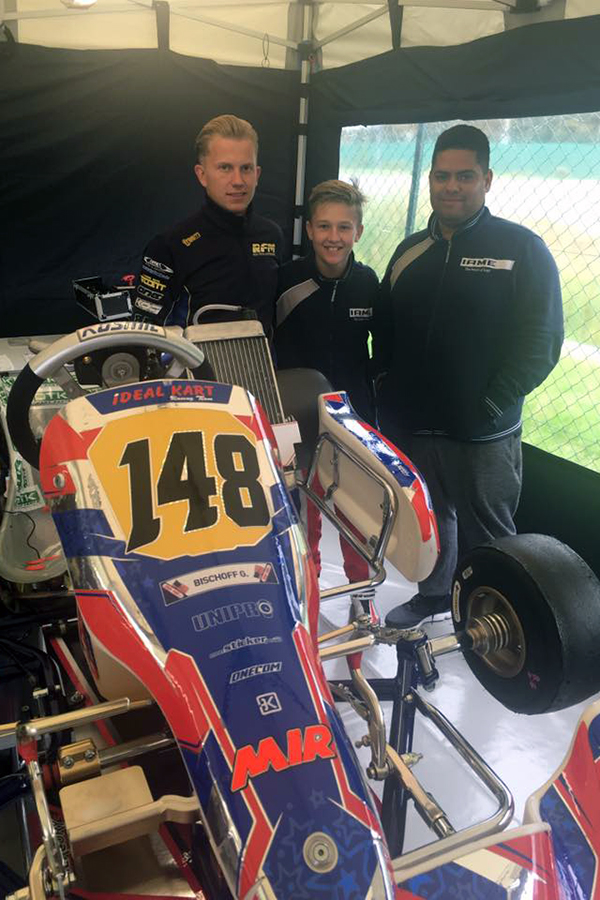 A total of 133 entries made up the X30 Junior field, with four calling the United States home. Gunnar Bischoff (OVRP) was the only driver to earn a ticket, thanks to his participation at the WKA Winter Cup with IAME USA East. The other three were there as wild card entries when the field was open to the public. Last year's SKUSA Pro Tour Mini Swift champion Tyler Maxson (SRC) was the most consistent driver of the four, earning a spot in the B-Main with a finish of 15th. Texas driver Alejandro Jaramillo (Koene USA) had the best finish in the heat races, placing seventh. Two bad results at the end of the heat races put him in the C-Main, ending up 26th. Bischoff and Junior rookie Joey Brienza (Nash Motorsportz) were unable to qualify for a main event.
#8 – Alejandro Jaramillo (Kosmic)
Qualifying: 54th (55.345)
Group: F – Row 7
Heat 1: 13th +11.7112 (56.080)
Heat 2: 9th +4.592 (55.806)
Heat 3: 21st +16.191 (56.376)
Heat 4: 7th +3.580 (55.659)
Heat 5: 13th +7.153 (55.899)
Heat 6: 29th +26.020 (55.855) +10-second penalty
Heat 7: 32nd +3 Laps (55.850)
Points: 71st (P3 C Main)
C Main: 26th +11.185 (56.098) +10-second penalty
#54 – Joseph Brienza II (CompKart)
Qualifying: 116th (55.721)
Group: D – Row 15
Heat 1: 19th +6.717 (56.013)
Heat 2: 18th +9.089 (55.972)
Heat 3: 23rd +16.598 (56.369)
Heat 4: 32nd +6 Laps (1:07.931)
Heat 5: 30th +25.906 (56.091)
Heat 6: 29th +23.046 (57.497)
Heat 7: 32nd +4 Laps (58.025)
Points: 117th
#148 – Gunnar Bischoff (Tony Kart)
Qualifying: 99th (55.571)
Group: C – Row 13
Heat 1: 27th +9.819 (56.372)
Heat 2: 16th +9.016 (55.016)
Heat 3: 33rd +5 laps (58.627)
Heat 4: 19th +10.507 (55.919)
Heat 5: 16th +9.016 (55.906)
Heat 6: 25th +15.363 (55.864)
Heat 7: 10th +3.342 (55.666)
Points: 104th
#174 – Tyler Maxson (Tony Kart)
Qualifying: 60th (55.364)
Group: D – Row 8
Heat 1: 25th +8.409 (56.141)
Heat 2: 21st +11.435 (56.307)
Heat 3: 11th +5.889 (55.518)
Heat 4: 10th +3.621 (55.540)
Heat 5: 23rd +14.842 (55.492) +10-second penalty
Heat 6: 10th +5.154 (55.308)
Heat 7: 13th +5.388 (55.531)
Points: 57th (P22 B Main)
B Main: 15th +4.434 (55.723)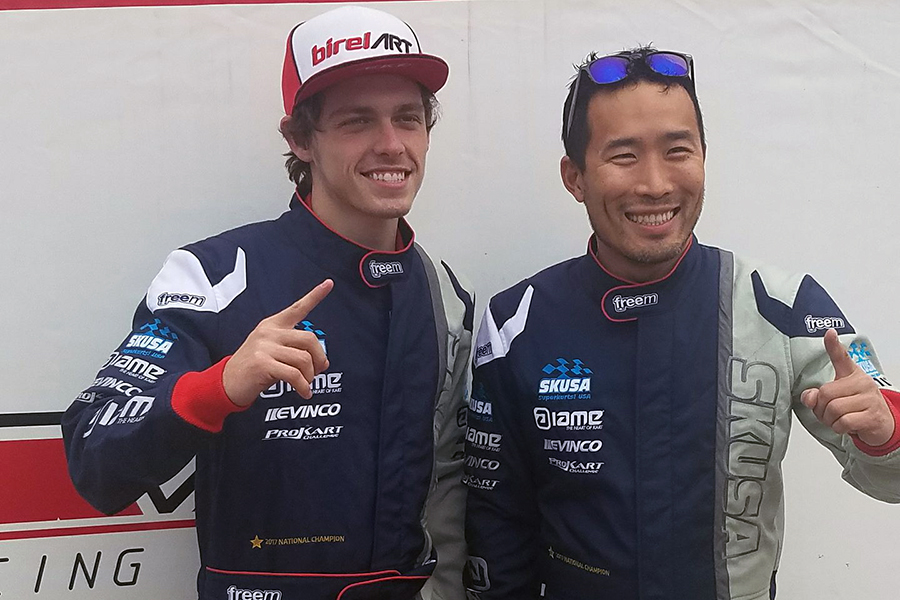 The lone Team USA driver in the X30 Masters category is two-time SKUSA Pro Tour champion Derek Wang (BBR). Wang has nearly a decade of experience racing overseas with his multiple trips to the Rotax Grand Finals. His first trip to the IAME International Final was an average outing. Wang was in the second half of the field after qualifying, and was able to come away with positive results in the heat races. Into the A-Main, Wang was shuffled to the back of the field after the opening laps, ending up 28th.
#409 – Derek Wang (FA Kart)
Qualifying: 44th (56.107 +1.020)
Group: D – Row 11
Heat 1: 18th +14.401 (56.306)
Heat 2: 13th +5.714 (56.297)
Heat 3: 18th +9.194 (55.830)
Points: 29th (P29 Prefinal)
Prefinal: 25th +18.455 (56.140)
Final: 28th +39.560 (56.613)
Article by David Cole (ekartingnews.com)